Navratri is a festival dedicated to the worship of the Hindu deity Durga.The word Navaratri literally means nine nights in Sanskrit. During these nine nights and ten days, nine forms of Shakti are worshiped. The tenth day is Dussehra where devotees celebrate the victory of good over evil.
Navratri is considered to be the world's longest dance festival, a very important and major festival in the western states of Gujarat, Maharashtra, and Karnataka during which the traditional dance of Gujarat called Garba and Dandiya-Raas dance is widely performed.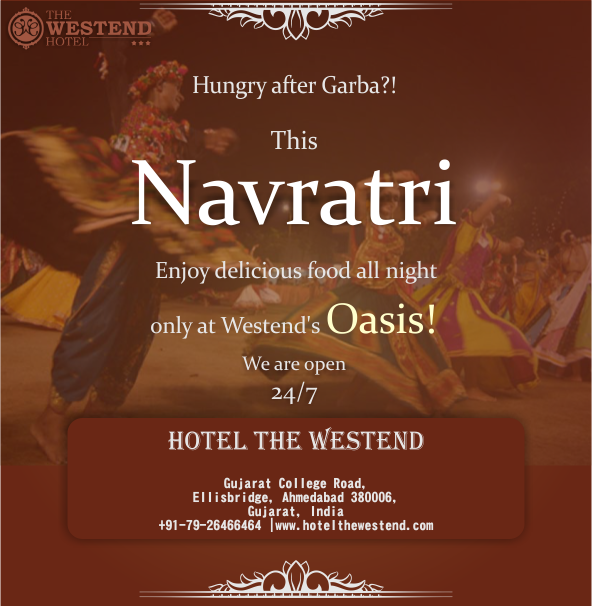 Garba originated in the state of Gujarat in India. Traditionally, it is performed during the Navarātrī. Either the Garba Lamp or an image of the Goddess, Durga (Amba) is placed in the middle of concentric rings for worshipping the Devi.
Modern garba is heavily influenced by Dandiya Raas, a dance traditionally performed by men. The Garba we see today is a fusion of these two dances. The main types of Garba performed today are Garbi, 2 Taali, 3 Taali, Dodhiyu, Heech, and Fusion Garba.
Women wear Chanya Choli a three-piece dress with a Choli, which is an embroidered and colorful blouse, teamed with chaniya, which is the flared, skirt-like bottom, and dupatta, which is usually worn in the traditional Gujarati manner. Men wear Kediyu (Traditional Kurta) and Dhoti (Traditional Cloth tied around the waist).
The traditional costume of the Garba dancer is red, pink, yellow, orange, and brightly colored Chanya choli with bandhani, Aabhla (big mirrors) and bright heavy laces. They also wear heavy jewelry, such as 2-3 necklaces, sparkling bangles, waist belts and long oxidized earrings.
Devotees fast for 9 days. Each night a unique form of Goddess Durga is worshipped through rituals and Garba dance. The forms of Durga for each night are:
Shailaputra
She is known as 1st phase of Durga when she took birth as the daughter of Great Himalayas.
Brahmacharini
Devi's that phase when Maa Parvati before marriage was Devi Yogni and Devi Tapsvini.
Chandraghanta
Maa Durga wears the semi-circular moon (Chandra) which appears like a bell (Ghanta) on her forehead.
Kushmanda
 Kushmanda Ma Durga creates solar system by liberating her power to Lord Sun.
Skandamata
As Mother of Skanda or Kartikeya, Maa Parvati or Maa Durga is known as Skandmata.
When Maa Parvati's Partial expansion took birth in Sage Katya's home and gets energy from trinity and demi Gods, then the Goddess was known as Maa Katyani.
In Skand Purana, Maa Parvati liberates Devi's golden outer sheath and becomes dark complexioned then Goddess becomes Goddess Kaalratri.
Devi is 16 years old unmarried Goddess Parvati.
Siddhidaatri
She is one who was worshiped by Lord Shiva to transform in the form of Goddess Ardhnarishwara, and then Goddess Shakti appeared from the left hand side of Lord Shiva.
The Government of Gujarat has been organising the "Navratri Festival Celebrations" on a regular basis for the nine days of Navratri Festival which attracts people from all over Gujarat and even abroad come to participate in the nine days celebrations. It is also popular throughout India and among Indian communities around the world including the UK, Canada,Malaysia,Singapore and USA. The Garba of Baroda city is also very popular since thousands of residents assemble together and perform the Garba traditionally.
Tourists from all over the world enjoy these colourful nights and get a taste of the rich Gujarati culture and heritage. When in Ahmedabad, you can rest assured that you will have a comfortable and rewarding experience. You are welcome to stay at The Westend Hotel anytime. We would be happy to serve you.