Makar Sankranti or Uttrayan is Gujarat's most celebrated and most awaiting festival, especially in cities like Ahmedabad, Surat and Vadodara. The sky is filled with thousands of colorful patangs (kites) and earsplitting yells and shouts. The thread which is made with abrasives which make it strong enough to cut other strings. Kites are made light weighted papers.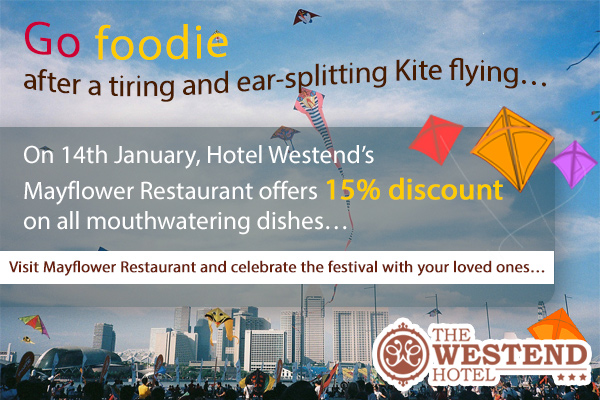 In Gujarat, this festival lasts for two days i.e. 14th & 15th January as Uttrayan and Vaasi Uttrayan respectively. From the early morning, youngsters and kids, with their family, start gathering on their terraces with kites, threads and food especially Undhiyu( a cuisine backed by mix of all vegetables ) and Chikkis(a sweet made of Tal, peanuts and Jaggery).
In Makar Sankranti, People try to cut one another's kites by powerful threads, they shout words like "kaipo chhe…, Lappet…, Phirki vent Phirki…" etc.
According to Hindu puranas (holy books) , On Makar Sankranti, God Sun, who is a sign of Knowledge, spiritual light and holy wisdom according to Hindu Religion, pays visit to his son Shani (Saturn) who is the father of Makar (Capricorn Zodiac Sign).
Makar Sankranti is celebrated throughout India with different names and traditions. In Tamil nadu, it is called Pongal. In Punjab, Uttar Pradesh and Haryana it is called Lohri, Khichdi and Maghi respectively. It is also celebrated in countries like Philippines, Myanmar and Sri Lanka.