Hotel Westend is a well-known hotel situated right in the heart of Ahmedabad – with comfortable, luxurious rooms that have spacious accommodation and are tastefully furnished, Westend promises a pleasant, satisfying experience, both to the tourist traveler and the business visitor. If you are a traveler, wishing to see the city of Ahmedabad and explore the city's architecture, eateries, commercial areas and cultures, you will find that staying in Westend makes it easier to access all the famous landmarks and important destinations of the city, as we are very suitably located , and our hotel is well-connected with both the old and the new city.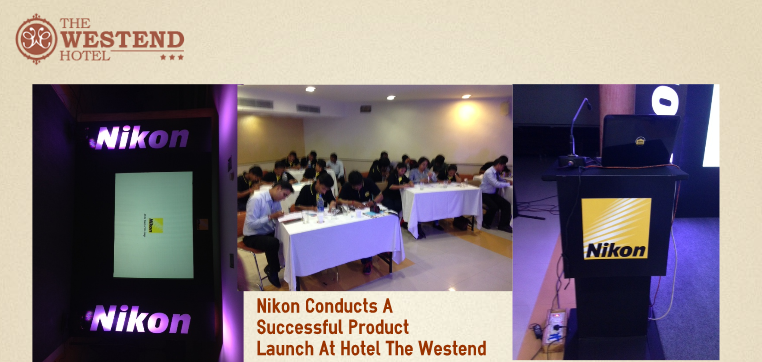 And if you are on a business or corporate visit, Hotel Westend is just the right place for you to stay in! This is because of so many factors. One of them is that you can easily access all your business destinations as our hotel is located centrally. And the other important factor will appeal a lot to our business guests- the convenience of the Conference Room. You can host your business meeting, conference or exhibition here. The Conference Room which can easily hold upto 175 people is an ideal location for conducting all your business meets.
Last week the world-famous Nikon camera company arranged a conference declaring the launch of their new range of cameras in the Conference Room at Hotel Westend. The event was very well attended by dealers, visitors, photography-lovers and others thronging the conference, wanting to know about the new cameras that will be soon introduced. A world leader in digital imaging, cameras, precision optics and photo imaging Nikon was able to hold a successful product launch in the premises of Hotel Westend's Conference Room!