Finding a good hotel is most vital task when you are planning for a picnic or vacation. However, the internet and communication technology has simplified this important problem at some level, but still there are some factors you need to consider while choosing a hotel especially when you are travelling with your family and kids. Let's discuss the five major factors which are mandatory to consider when you are finalizing the hotel.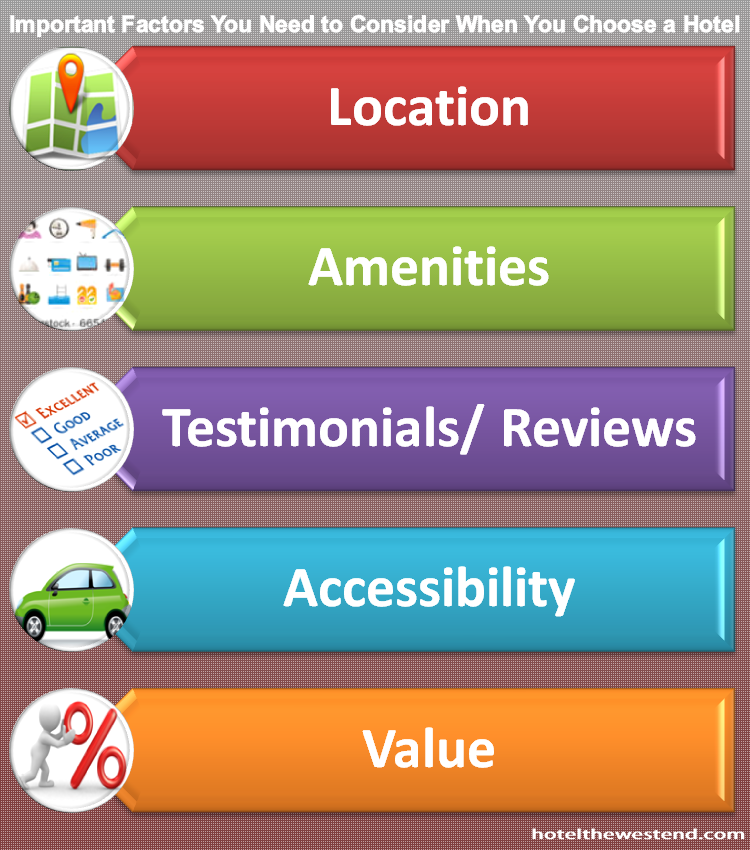 Hotel Location:
If you are on a leisure trip, make sure that the hotel is located in the proximity of all the tourist destinations. If your hotel is located centre of the city or town, it makes easy for you to visit the all tourist places in less time. If you are visiting for a business trip, chose a hotel that is nearby to the main business centers or industrial centers of the city. Medical services, shopping malls and airport or railway station also should be near the hotel. It's just not save time; it will also make your trip more enjoyable.
Hotel Amenities:
The modern hospitality players understand the importance of services and different amenities to their clients unlike the traditional ones. In cut-throat competition, hotels which give exceptional services and amenities are preferred mostly by tourists. For example, if you are staying for a business trip, internet facilities and Wi-Fi is mandatory in your rooms. There are many hotels in India which offer professional guide facilities for the foreigner visitors to prevent any deception or cheating from local wrenched people. Check in the hotel after gathering required information about amenities provided by the hotel.
Testimonials/ Reviews:
In an era of the technology, an end-user has unlimited options to choose because of the competition. Before choosing any particular hotel, you may go through the testimonials received from the other tourists who have already visited that hotel. There is no direct control of the hotel management to the reviews and testimonials so there is a space of 100% honesty and transparency in the reviews published in different travel websites. You can also surf diverse travel articles by different travel bloggers depicting the experiences about the city or the tourist spots.
Accessibility:
This is an extremely important factor when you are on a trip. You should check the smooth transport accessible from the hotel. The Hotel must give shuttle services to the key destinations like shopping malls, tourist places, railway station and airport. Also, there should be public transport or frequent taxi services nearby the hotel. The lack of accessibility of fast transportation is very annoying and it can ruin your travel experience. You can use online maps to decide which hotel to choose while deciding your travelling plans.
 Value:
You can choose a hotel by comparing prices of the different hotels simultaneously. Asking discounts and other lucrative offers is not at all wrong. You are just asking for the best value for your money. You can research about the value added services provided by hotels. Many 3 star hotels in Ahmedabad today come up with new attractive schemes and offers to attract tourists.
Remember that your trip's pleasure is directly proportional to the hotel you chose to stay. So take great care in choosing the hotel.
Len's Bio: This article describes necessary factors you should check before deciding the hotel to stay when you go for a vacation. The vicinity of hotel, amenities, value, and accessibility are some of the important factors when you choose a hotel for the comfortable stay.